Beskrivelse
---
Burns Nu Sonic 30" Bass, Red
First launched in 1964 as a follow-up to the Burns Sonic, the Nu-Sonic Bass reissue has a body made from basswood with a maple veneer which lends the body a slightly stronger visual aspect beneath the cherryred polyester finish.
The neck is maple and has an Indian rosewood fingerboard with traditional dot inlays. It has a very slim neck, woth lots of room to move around the fingerboard comfortably. Its lower string tension, coupled with the flatwound strings, makes the Nu-Sonic Bass great fun to play.
The Nu-Sonic Bass has elements like the short-scale length, small machine heads and flatwound strings lend it real vintage character. It has a classic sixties retro tone and feel; a small bass with a big sound. Price includes a moulded hard case, a leather strap and tool kit.
Nu-Sonic Bass Features:
Short Scale 30 inches
Body Basswood
Neck Maple
Frets 21
Pickups 2 x Nu-Sonic bass
Controls 2 x volume and one tone
3 way pickup selector
Nut width 42mm
Bridge top loading
Weight 7.7 Ibs. 3,50Kg.
Finished in Polyester Cherry Red
Burns Silver Croco Hardcase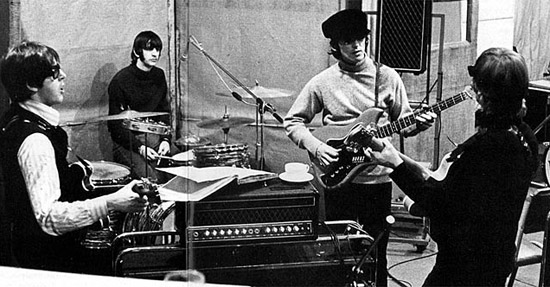 George Harrison recording the track Rain at Abbey Road studios 1966 playing a Burns Nu-Sonic bass which was hired from Burns for the session as George was right handed and couldn't use Pauls left handed basses.
If you're looking for light weight and impeccable '60s credibility then the weeny but addictive Nu-Sonic might be for you. Review by Gareth Morgan
Links:
https://guitar.com/review/burns-nu-sonic-bass-review/
http://www.burnsguitars.com/article10.php